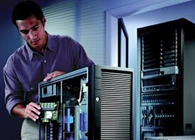 Having extensive experience in providing specialized informatics applications for the Tourism Market, MetaByte Software is pleased to announce the new service of Computer Equipment Support(Hardware).
By activating a specific annual computer equipment support contract, MetaByte Software takes up and commits for the proper, daily and smooth functioning of the overall informatics system of the company, not necessarily relevant with MetaByte's applications, through specific processes and services that offer:
Support of computer equipment (computers, servers, printers, network and peripheral devices, etc.) with telephone support and remote (online) help from the company's Help Desk.
Visit of the technical partner at the firm (onsite) whenever necessary and no extra charges
Installing applications on PCs and Servers
Installing antivirus on Servers and PCs
Manage Internet connections and corporate emails
Set up of CRS systems in contact with the respective technical departments
Set up of automated daily processes to Backup Metabyte applications without the operators intervention
Monthly Backups of MetaByte applications and important to the operators files, to an external storage device (Metabyte Servers).
Advice on the development of the computer system and on the improvement the Company's computer and informatics services.
Through special procedures regulating computers, MetaByte Software ensures the protection of the computer system of the company from user errors, ensuring continuous flow of daily work.